City Impacting Business Network (CIBN)
It is God's plan for you to prosper. The mission of CIBN is to give you the tools to be a successful business owner and/or to be successful in your business endeavors. Our desire is to see you create wealth to help advance the Kingdom of God.
CIBN is for YOU!
Whether it is starting a business, getting a promotion or investing; we provide resources to assist you in reaching your business goals.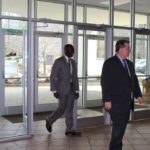 The Word tells us that God gives us power to get wealth to advance His Kingdom on the earth. If Christians are successful and obedient to the Word, there will be an increase of resources in the Church. This will cause the Church to be able to reach more people. Success in the marketplace becomes success in the House of God!
Come out and share your success with others!
CIBN has helped me expand my business by presenting my services to other business owners. When I first came, I was struggling to get new clients. The group gave me some creative ideas and helped me to increase the number of people who now know about my services. Thanks everyone!                                                         – Charlie G.
Monthly Meetings
Every 2nd Monday of each month @ 7:00PM